I had the great pleasure of accompanying Rev. Kevin Young to the
Mat Kearney
concert at the Workplay theater in Birmingham on 8/9/10. It was the first time either of us had been to Workplay.
Shout out to Kelly and Doug from Atlanta! They started talking to Kevin and I before the concert and it was a real pleasure getting to know them a little. Check them out on twitter
http://twitter.com/Spellitphotos
Let me start by saying that the
Workplay Theater
is an amazing venue. What a great atmosphere they've created for events. I really wish I had taken some pics, but I didn't. I will next time though. The lobby was very stylish with an oddly angled desk for the receptionist. There was a nice waiting area that had several tables and chairs, and a small bar.
The auditorium was more like a small restaurant with a balcony and a stage. We got lucky enough to get a table right at the stage. I really think I had the best seat in the house. The only problem with it was that I had some lights in my eyes periodically, but it wasn't that bad. We were so close we could read Mat's set list, which I liberated from the stage after the concert:
The opening act was some lady named Jane Carrey. Oh. Wait... that's Jim Carrey's daughter! I didn't know she had a band, but wow she was good! I especially liked the title of one of her songs dedicated to her husband, "Sexy Man In A Death Metal Band". Surprisingly, she was very good. Here's a video of her doing the Beatle's song Blackbird:
(I took the videos and photos in this post on my iPhone 3GS while sitting in my seat.)
Unfortunately the audio in these videos is not great. Hey, it's a phone.
Jane played for about 30 minutes and we had a short intermission while they prepped the stage for Mat.
Mat was accompanied by his friend,
Tyler Burkum
. Tyler really augmented the performance with additional guitar and backup vocals. He has his own CD out too. You can check it out at that link above.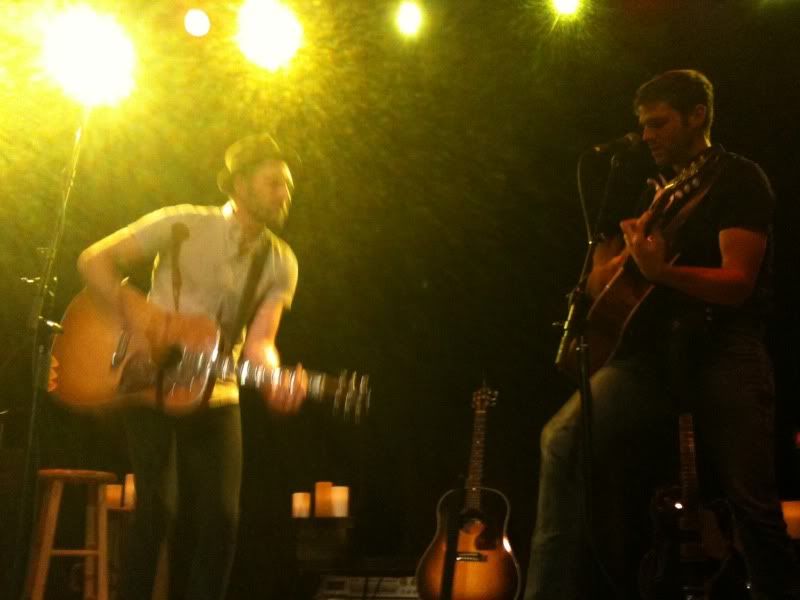 I won't bore you by telling you the set list. You can read for yourself in the photos above. It was a really great performance. It was the first time I've gotten to see Mat live, and I'm really hoping it's not the last. The venue really made it intimate. He engaged the audience often, letting us suggest songs and then playing them and bantering a little with people between songs.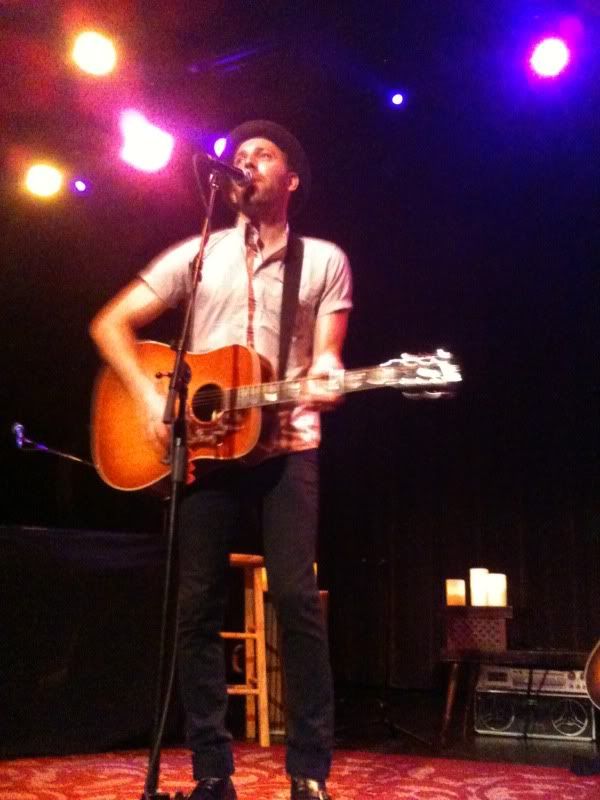 One thing that was both neat and strange was this suitcase they had converted into a 'bass drum'. Really, all it was was a suitcase with a microphone in it that they'd kick, which caused a bass sound. They did a cover of Sprintsteen's Dancing in the Dark, but before they started, Mat asked if there were any drummers in the audience. A bunch of people started yelling "Bobby!" When Mat finally figured out who Bobby was, he had him join them on stage and had him 'play the suitcase' for them during the song. I could tell Bobby loved it. I just wonder if he will remember it, cause I think he was pretty drunk.
One fun moment was during the song Girl America. Mat forgot the lyrics for a moment. Here's the video:
I really can't say which of Mat's songs is my favorite. I love them all. One that I tend to listen to a lot, though, is Nothing Left To Lose:

Nothing Left To Lose - Mat Kearney
Something's in the air tonight
The sky's alive with a burning light
You can mark my words something's about to break

And I found myself in a bitter fight
Well you've held my hand through the darkest night
Don't know where you're coming from but you're coming soon

To a kid from Oregon by way of California
All of this is more than I've ever known or seen

Come on and we'll sing, like we were free
Push the pedal down watch the world around fly by us
Come on and we'll try, one last time
I'm off of the floor one more time to find you
And here we go there's nothing left to choose
And here we go there's nothing left to lose

So I packed my car and I headed east
Where I felt your fire and a sweet release
There's a fire in these hills that's coming down
And I don't know much but I found you here
And I can not wait another year
Don't know where you're coming from but you're coming soon

To a kid from Oregon by way of California
All of this is more than I've ever known or seen

Come on and we'll sing, like we were free
Push the pedal down watch the world around fly by us
Come on and we'll try, one more time
I'm off the floor one more time to find you
And here we go there's nothing left to choose
And here we go there's nothing left to lose

And I can still hear the trains out my window
From Hobart Street to here in Nashville
I can still smell the pomegranates grow
And I don't know how hard this wind will blow
Or where we'll go

Come on and we'll sing, like we were free
Push the pedal down watch the world around fly by us
Come on and we'll try, one last time
I'm off of the floor one more time to find you

Come on and we'll sing, like we were free
Push the pedal down watch the world around fly by us
Come on and we'll try, one last time
I'm off of the floor one more time to find you

Come on and we'll sing, like we were free
Push the pedal down watch the world around fly by us
Come on and we'll try, one last time
I'm off of the floor one more time to find you
And here we go there's nothing left to choose
And here we go there's nothing left to lose